Legitimate Russian dating sites on the Web
Dating couldn't be easier today because we have access to so many online dating sites. Meanwhile, some singles tend to think dating has become more confusing because they are not sure which dating websites are legitimate. If you are interested in dating Russian ladies, you'll be glad to know that I've done all the research for you. I actually helped my clients to create profiles on these Russian dating sites and tested the performance of each site below. Therefore, you know you will benefit from reading this article.
Now I'd like to show you how to test a Russian dating site by yourself, so that you won't need me in the future! (How cool is that?!) Here are the steps:
Step 1: Read as many site reviews as possible.
Step 2: Choose a Russian dating site that you like.
Step 3: Create a profile on this site.
Step 4: Search for Russian girls on the site.
Step 5: See how it goes: If the Russian dating website asks for your money, that's not a scam because most Russian dating site are businesses that need to make a profit. However, if a "Russian woman" asks for your money on the site, that's a scam.
In other words, most Russian dating websites are legitimate; a small number of people who call themselves "Russian girls" are potential con artists.
Yes, it's just as simple as that.
That said, it doesn't mean all "Russian girls" on Russian dating sites are frauds. I'm sure the majority of those Russian women are genuinely interested in meeting foreign men. In fact, you may encounter con artists on any dating site if you are not careful.
All right, here is a list of legitimate Russian dating sites that I've tested:
MyRussianMatch.com has both Russian women and Ukrainian women. The main advantage of this site is the high level of safety for all members. Because this Russian dating website manually checks every member's background, you can choose anyone you find attractive here.
MyRussianMatch.com works a bit differently, compared with other Russian dating sites. Firstly, you create a profile on the site. Then you can upload photos in the gallery, and you can put your photos to photo contests for hundreds of Russian women to see and rate them. Of course, you can rate women's photos as well. But if you want to read women's replies and write the next letter, you need to upgrade your membership. Every week this site has about 200-350 new Russian girls who are active and not communicating with anyone yet, which means there are many more new opportunities for you. You can exchange emails and telephone numbers with Russian ladies on this site.
Girls-russia.org is a comprehensive dating site which not only includes Russian girls, but also women from other countries such as Belarus, Bulgaria, Czech Republic, Estonia, Moldova, Morocco, Ukraine and Italy. Therefore, if you are interested in meeting more women from various cultures, this is the right dating site that you should join.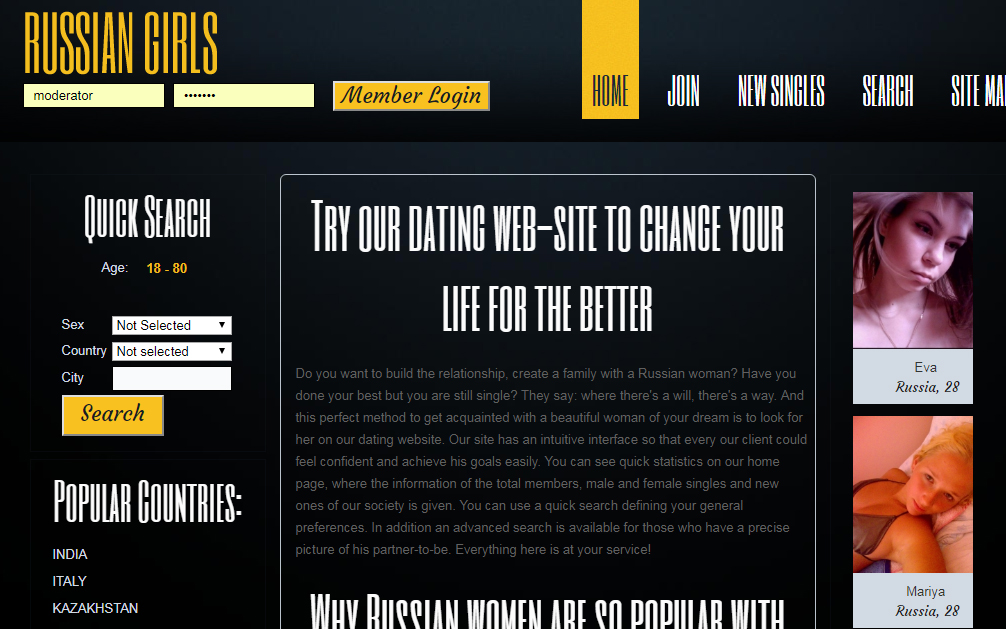 However, most women on this site are from Russia, which is understandable because this dating site is called girls-russia.org! The majority of Russian beauties on this site are in their 20s, so if you are into younger women, it's the right Russian dating site for you.
You can search for single women according to country/city. You can also read free articles about dating advice (e.g. How to find the perfect match, four ideas for a perfect date with a Russian woman and What if the Russian bride has been married before?)
Ladies-russian.com is the only Russian dating website that doesn't allow any woman to ask for money from men! Yes, that's their rule: Women who join this dating site cannot ask for men's money. When finding unfavourable information, this site sends a warning to the female member. In future, she will be punished in search results. In case of more serious violations, she will be blacklisted. Therefore, you know you are in good hands if you join this Russian dating site.
Ladies-russian.com has a wide variety of women that you can choose from. Some of their female members are younger (in their early 20s), and some are older (nearly 40 years old). But most of them are still youthful and radiant. So if you are looking for a more mature woman who can understand you and look after you, this is the right site for you. Or if you are a single dad looking for someone who will take care of you and your kids, you may consider meeting a mature woman or a single mum who already has enough life experience. In fact, Russian ladies are well-known for their ability to look after their family. That's why they are so popular.
Previous Article | Next Article